Khenpo Tsewang Dongyal Rinpoche




Tulku Tsewang Dongyal, Khenpo Palden's younger brother, was born in Tibet on June 10, 1950. Soon after his birth three head lamas from Jadchag monastery, a large monastery three days travel north of his village came to his home and recognized him as the reincarnation of Khenpo Sherab Khyentse, the former head abbot at Gochen. Khenpo Khyentse was a renowned scholar and practitioner who lived most of his life in retreat. He entered Gochen monastery at the age of five but his studies were interrupted when the entire family had to leave Tibet in the face of China's invasion. He home-schooled in the Indian refugee camps with his father and brother but soon entered the Nyingmapa Monastic School where he studied until 1967 before entiering Sanskrit University in Varanasi (B.A.'75). He earned another BA as well as an MA from the Nyingmapa University in West Bengal. In 1978 he was enthroned as a Khenpo (abbot) by H.H. Dudjom Rinpoche and appointed head abbot of Dharma Studies at the Wishfulfilling Institute in Kathmandu, Nepal where he taught poetry, grammar, philosophy and psychology.



In 1980 he made his first trip to the United States. In 1981 he went to Paris to assume the duties of an abbot at the Dorje Nyingpo Center. In 1982, he was called back to New York to work with Dudjom Rinpoche at the Yeshe Nyingpo Center. He worked here until Dudjom Rinpoche died in 1987. In 1988, Khenpo Tsewang and Khenchen Palden Sherab founded the Padmasambhava Buddhist Center in NYC. Since that time he has served as spiritual friend and director at the various Padmasambhava centers around the world. Khenpo Tsewang is a Tantric Master, holding all the empowerments of the Kama and Terma lineages. He has taught in Nepal, India, France, Canada, Puerto Rico, Taiwan, Hong Kong, Russia and extensively throughout the United States. An active teacher, scholar, and published poet, Khenpo Tsewang presently lives and travels with his brother, translating his teachings and serving the sangha with his clarity, good humor, and open heart.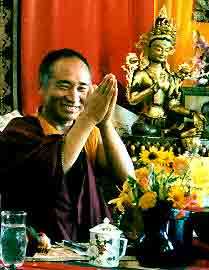 Praise to Yeshe Tsogyal
A Devotional poem by Khenpo Tsewang Dongyal Rinpoche